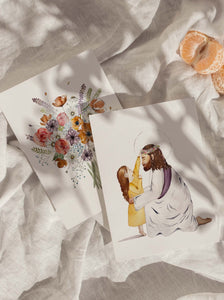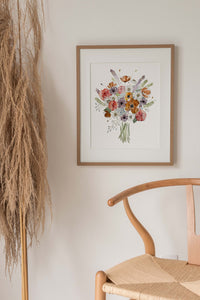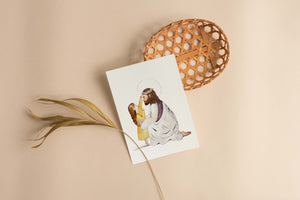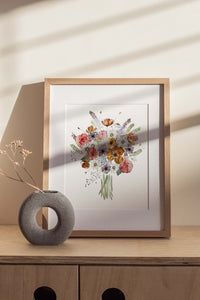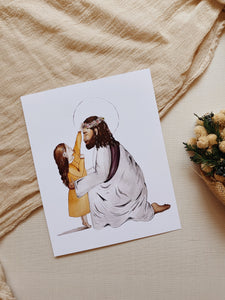 These are original watercolor paintings by Jana Zuniga. Printed on 100 lb bright white linen paper. Available in sizes 8x10 and 5x7. 
The Little Way Print Bundle includes: 
1. Remplissez-le à Nouveau de Fleurs Painting (order individually here)
2. Crowning My King painting (order individually here)
A note from the artist: 
Three months ago I started reading Story of A Soul by Saint Therese of Lisieux. 
While describing the days leading up to her First Holy Communion, she wrote the following excerpt: 
"I must stir up in my heart fresh transports of love and fill it anew with flowers. So each day I made a number of sacrifices and acts of love that were to be changed into so many flowers; now violets, another time roses, then cornflowers, daisies, or forget-me-nots — in a word, all nature's blossoms were to form in me a cradle for the Holy Child." 
While meditating on this image, I saw a little girl, proudly weaving a crown of flowers for her Heavenly Father. Each flower represented a small act of love she made for Him. 
As she reached up to place it on his head, she wondered if it would be good enough. 
Would he like the flowers I chose? Is he proud of what I made him? 
She doesn't see Him gazing on her with such delight and joy. He is overwhelmed with love for his little girl. 
After dwelling on this image in prayer, I grabbed my notebook and immediately sketched this painting out. I knew I had to make it come to life. I was also inspired to paint a bouquet that included the flowers Saint Therese described in her excerpt, as well as two of her other favorite flowers: poppies and purple vetch. 

Let these paintings remind you to fill your heart with love for Jesus in the small and hidden sacrifices of your daily life. 

Remplissez-le à Nouveau de Fleurs : "fill it anew with flowers"