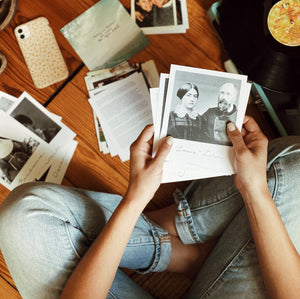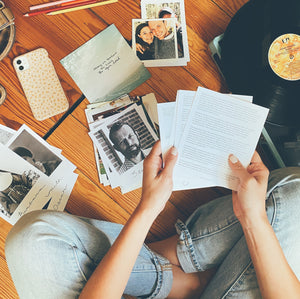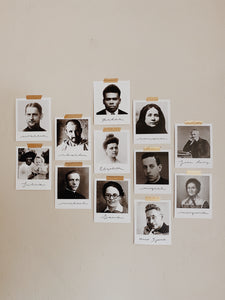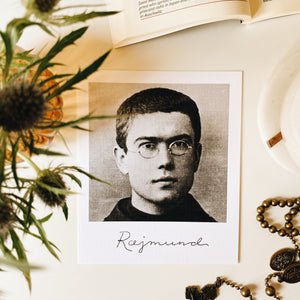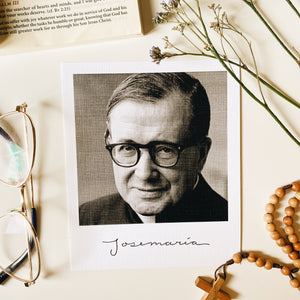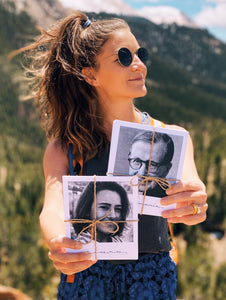 Invite the Saints into your home like family. These packs each feature 12 vintage style prints of modern Catholic Saints with their birth names written below in original calligraphy by Jana Zuniga. Created to feel like family heirloom photographs. 
They also include a one page biography of each saint printed on the back of each polaroid. These stories were thoughtfully composed by Jana to inspire, educate and encourage all who encounter this body of work. 
Each photo is printed on 5 x 6 in. 100 lb linen paper. Their solo birth names serve as a small reminder that these men and women were just like us. A gentle and constant reminder that we are all called and capable of becoming saints by the grace of God.
Choose from 4 different editions. 
1st Edition: 

1. Bl. Chiara Luce Badano
2. St. Teresa of Calcutta (Anjeze Gonxhe)
3. St. Therese of Lisieux
4. St. John Paul II (Karol Jozef)
5. Venerable Fulton John Sheen
6. St. Jose Luis Sanchez Del Rio
7. St. Maximillian Kolbe (Rajmund)
8. St. Maria Faustyna (Helena)
9. St. Gianna Molla
10. St. Padre Pio (Francesco) 
11. Bl. Chiara Petrillo
12. Bl. Giorgio Frassati
2nd Edition:
 1. Venerable Francis Van Thuan (Phanxico Xavie)
2. Servant of God, Father Emil Kapaun
3. St. Jacinta of Fatima
4. St. Andre Bessete (Alfred)
5. St. Josemaría Escriva 
6. St. Louis and Zelie Martin 
7. St. Edith Stein 
8. Bl. Solanus Casey (Bernard)
9. Bl. Stanley Rother 
10. St. Oscar Romero 
11. St. Josephine Bakhita
12. St. Marianne Cope (Barbara)
3rd Edition:
 1. Servant of God Dorothy Day
2. Venerable Augustine Tolton
3. St. Damien of Molokai (Jozef) 
4. St.John Bosco (Giovanni) 
5. St. Frances Cabrini 
6. Bl. Karl of Austria
7. Bl.Franz Jägerstätter
8. St. Gemma 
9. Bl. Carlo Acutis
10. St.Giuseppe Moscati
11. St. Bernadette Soubirous
12. Servant of God, Thea Bowman (Bertha)
4th Edition: 
St. Charles de Foucauld
St. Elizabeth of the Trinity
St. John Henry Newman
Servant of God, Julia Greeley
St. Marguerite Bays
Bl. Michał Sopoćko 
Bl. María Concepción Cabrera
Bl. Miguel Agustin Pro Juarez
Bl. Peter To Rot
Bl. Sára Salkaházi
St. Titus (Anno Sjoerd) Brandsma
Servant of God, Walter Joseph Ciszek