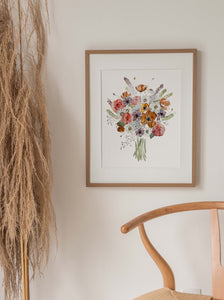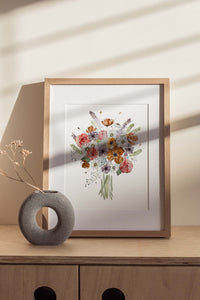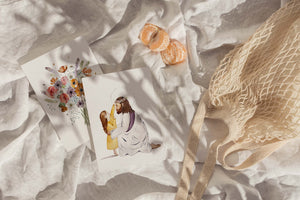 This is an original watercolor painting by Jana Zuniga. The flowers included in this bouquet were inspired by an excerpt from Saint Therese of Lisieux's autobiography. This painting is printed on 100 lb linen paper and comes in sizes 11x14, 8x10 and 5x7. 
Further background on this artwork: 
Saint Therese of Lisieux was a French Carmelite nun who absolutely LOVED flowers. She wrote about them often in her autobiography while speaking of fond memories or making spiritual analogies. 
She wrote the following excerpt while describing her preparation to receive First Holy Communion:
"I must stir up in my heart fresh transports of love and fill it anew with flowers. So each day I made a number of sacrifices and acts of love that were to be changed into so many flowers; now violets, another time roses, then cornflowers, daisies, or forget-me-nots — in a word, all nature's blossoms were to form in me a cradle for the Holy Child." 
This bouquet includes the exact flowers she describes above in addition to two of her other favorite flowers: poppies and purple vetch. 
For this reason, the painting is called "Remplissez-le à Nouveau de Fleurs" which translates to "fill it anew with flowers" in french. 
Let this painting remind you to fill your heart with love for Jesus in the small and hidden sacrifices of your daily life.