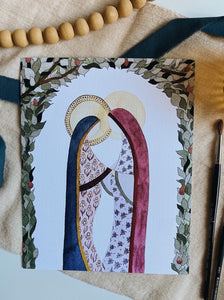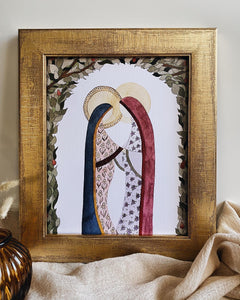 This is a fine art print of an original watercolor painting by Jana Zuniga. It is printed on durable 100 lb bright white linen paper. This print is also available in the "Nativity Folk Collection", which includes 3 folk prints of your choice, sold as a bundle.
Available sizes:
8 x 10 in.
5 x 7 in.
Prints are shipped from Colorado Springs 2-5 business days after your order is received.
A note from the artist:
"Five years ago, I had the privilege of living with homeless pregnant women through a volunteer program called Maggie's Place. It was a place of refuge for mothers who were in desperate need of support, healing, and mercy. 
Every morning, my team would pray the Magnificat prayer together: 
"My soul proclaims the greatness of the Lord; my spirit rejoices in God my savior. For he has looked upon his handmaid's lowliness; behold, from now on will all ages call me blessed. The Mighty One has done great things for me, and holy is his name." Luke 1:46-49
During that year, I walked with former prostitutes, drug abusers, alcoholics and victims of domestic violence as they become vessels of new life. Although these women came from deep places of darkness, I witnessed the profound miracle that is becoming a Mother. Not just the miracle of life itself, but the radical explosion of hope that each baby brought forth in their mother's heart. 
It was something to behold. Something so sacred and beautiful in the midst of seemingly hopeless circumstances. 
I was witnessing each of these women have their own "Magnificat" moment. The same type of surrender…the same type of awestruck wonder at the glory of God manifested through a tiny babe.
When I reflect on the story of the Visitation, I think of God's glory. I think of the miracles He has in store for us. I think of His fidelity to those who "believed that what was spoken by the Lord would be fulfilled." 
The Magnificat Folk Print is an image of hope for me, and I hope it is for you too. A reminder of God's glory and fidelity. "
-Jana