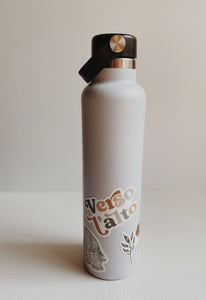 Verso L'alto is Italian for "To the heights". Blessed Pier Giorgio wrote these words himself on the back of the photo which was taken by a fellow climber on June 7, 1925. This was his last ascent before he would die a month later. It has since become a famous motto that remembers a man who had his eyes locked on the heights of heaven. 
Thick, durable vinyl protects your sticker from scratches, water & sunlight. It measures 3" by 2".
Note: Solo stickers SHIP FREE.
For quantities of 25+, please allow 5-10 days of processing time, as in house stock may be limited and will require a separate order from our supplier.