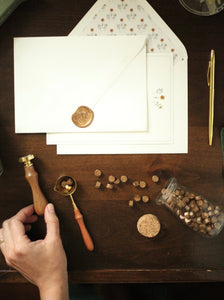 Next Restock Date: Mid November
Our Wax seal stamp kits include everything you need to get started with wax sealing! The wax seal included in your kit is engraved with the Holy Family Floral Trio, our signature brand logo. These florals are meant to represent Jesus Mary and Joseph, giving you the perfect way to add a spiritual touch to all your letters. You can also use these elegant wax seals for unique gift wrapping, scrapbooking, wedding stationery, and product packaging. 
You can purchase the matching Holy Family Stationery here.
Wax Seal Kit Includes: 
Holy Family Wax Seal: 2.5 cm brass stamp face engraved with the Holy Family Floral Trio, rosewood handle

Wax Seal Spoon: Brass spoon with rosewood handle

Antique Gold Wax beads: Comes in a glass jar, includes approximately 175+ beads, enough to make over 75 wax stamps. 

All products are packaged in our custom retail packaging, with directions and the explanation of the Holy Family Floral symbols included
How to Use Sealing Wax Beads to Create a Wax Seal:
Gather supplies needed: wax seal stamp, wax melting spoon, sealing wax beads, candle 

Place three (3) sealing wax beads into wax melting spoon 

Hold wax melting spoon over candle heat to melt wax 

Pour hot wax onto project surface (find a list of ideas here)

Press wax seal stamp into hot melted wax, allow wax to cool* (approx. 15 seconds)

Remove wax seal stamp to reveal final design 
*if wax seal stamp sticks to wax, let cool for longer to allow wax to completely set