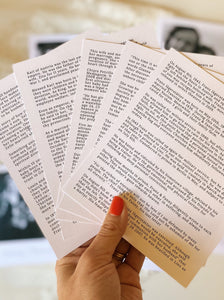 Includes a digital copy of all 36 stories of each saint included in the Full Collection of Saint Polaroids. This pdf is formatted to 5 x 6 inches per sheet to match the size of the Saint Polaroids. 
THIS IS NOT A PHYSICAL PRODUCT. 

TERMS OF USE:
© 2021 January Jane Shop, LLC. All Rights Reserved.
These stories are exclusive and original to January Jane Shop, LLC and are protected by copyright law. Any reproduction or imitation of this body of work will be considered a violation of intellectual property rights.
All files are for personal use only. You may not sell or redistribute these items.
No part of any content may be reproduced in any form.
All downloads are intended for the exclusive use of
the purchaser and nobody else.
Thank you for supporting my small business and valuing my hard work!